Automotive repair and maintenance facilities have been declared an essential operation during the COVID-19 outbreak. As such, we will remain open and be here to serve you. Please know that our first concern is the safety of our employees and customers. During this time, we will take additional precautions in servicing your vehicle. These measures may include using a seat cover, steering wheel cover, and wiping down door and shift handles. We will also ensure sick employees stay home. We may close our waiting room. Please call ahead for the most current information, but know that we are here to serve you and keep your vehicle running during these difficult times. Thank you for being a Whiteheart and Sons Automotive and Towing customer.
Whiteheart and Sons Automotive and Towing Offers Auto Repair Services You Can Count On!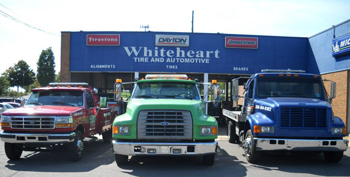 Whiteheart and Sons Automotive and Towing has been providing customers in the Winston-Salem, NC 27105 area with high-quality automotive maintenance and repair services since 1985. Our experienced mechanics will get your vehicle up and running again, and we'll keep it in top operating condition.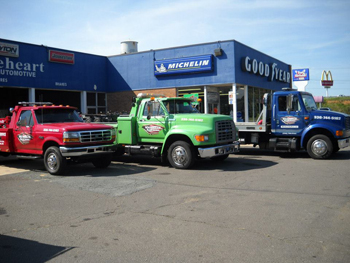 We provide a range of services, including Car & Truck Care, Electronic Services, Electrical Services, General Services, Heating and Cooling Services, Engine & Transmission, Miscellaneous Services, Towing, Transmission Services, and Undercar Services. We're proud of our great mechanics, who have years of experience working on many different types of vehicles. They have the knowledge required to diagnose your problems, and to find affordable solutions to get you back on the road quickly.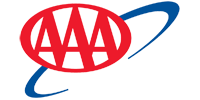 To learn more about our services, call us at 336-724-7463 or email us today. We're looking forward to earning your trust as a friendly, honest and reliable alternative for your auto maintenance and repair needs in Winston-Salem.
Whiteheart and Sons Automotive and Towing offers auto repair services you can count on!
coupons
$10 OFF DIAGNOSTICS SPECIAL (Regular Price $69.95)
view coupon
Call (336) 724-7463 for details!
Vehicle
tips
According to recent studies, 5 percent of all motor vehicle fatalities are clearly caused by automobile maintenance neglect.
Testimonials
James Gormley

, 04/02/2022
It's Saturday. Yesterday I had my car's air compressor and all components replaced. Today I ran a couple of errands. On way home coolant flushed out and it started to overheat, then it shut down. I pulled off to the side of the road, car wouldn't start. The repair shop was closed, I will deal with them on Monday. I had just joined AAA so I thought, "wow, what luck!" I called them at 4:00PM. They said a technician was notified but they could not get to me until at least 7:00PM because they were so busy. I was not happy to say the least. I called Whiteheart and Sons. They dispatched a truck that showed up in 15 MINUTES! I cancelled the AAA service call...I will deal with them on Monday. The driver called me when he was on his way, named Ronald Clint (hope I have the name correct). He pulled up, the car had cooled off enough so it would start and I was able to pull it onto the flatbed. He hooked it up carefully and we were off. I had it towed to my home since I will be asking the repair facility that worked on it to pick it up Monday and fix the faulty work. I was so thankful to Ron and I had told him about my AAA experience and I told him how impressed I was that he had shown up so quickly. While he was lowering the flatbed preparing to unload my car, he told me to have a look at the back window of his truck...I see the AAA sticker, they are an approved/recommended AAA company! I took a picture of that. Why AAA told me I could not be helped and they intended to leave me sitting on the side of the road for THREE HOURS is something I will be speaking to them about on Monday. Between the repair shop and AAA, I have a lot of ass to kick on Monday. I have Whiteheart and Sons' phone number saved in my phone. I cannot recommend them enough. Friendly, professional driver with a top-level tow truck that was well-equipped and looked immaculate. All that and the quick dispatch and pickup, this is THE place to call if you ever need a tow. THANK YOU!!!
view all reviews